PROGRAMME-SHEET
PO08-Consultancy Services to Develop a Regional Single Administrative Document (SAD) and Capacity Building on Customs Valuations for CARICOM Member States and CARIFORUM Countries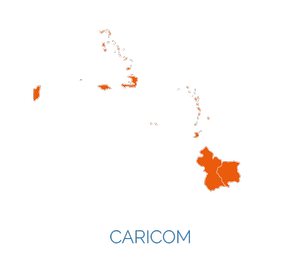 Status

[ From 2018-05-29]

Region
Project type
Regional
Sector
Trade policies+capacity building
Applicant
CARICOM Secretariat
Documents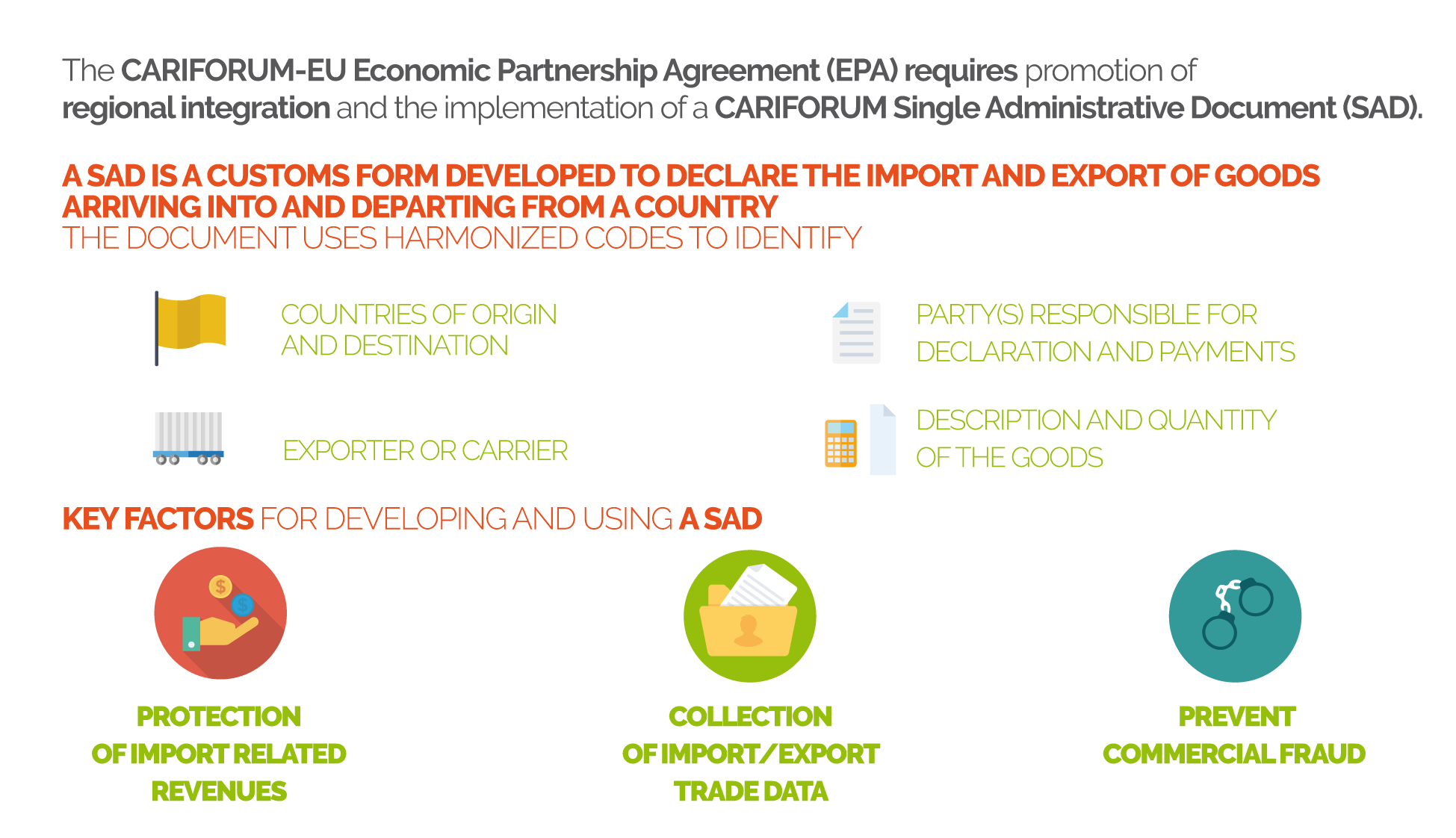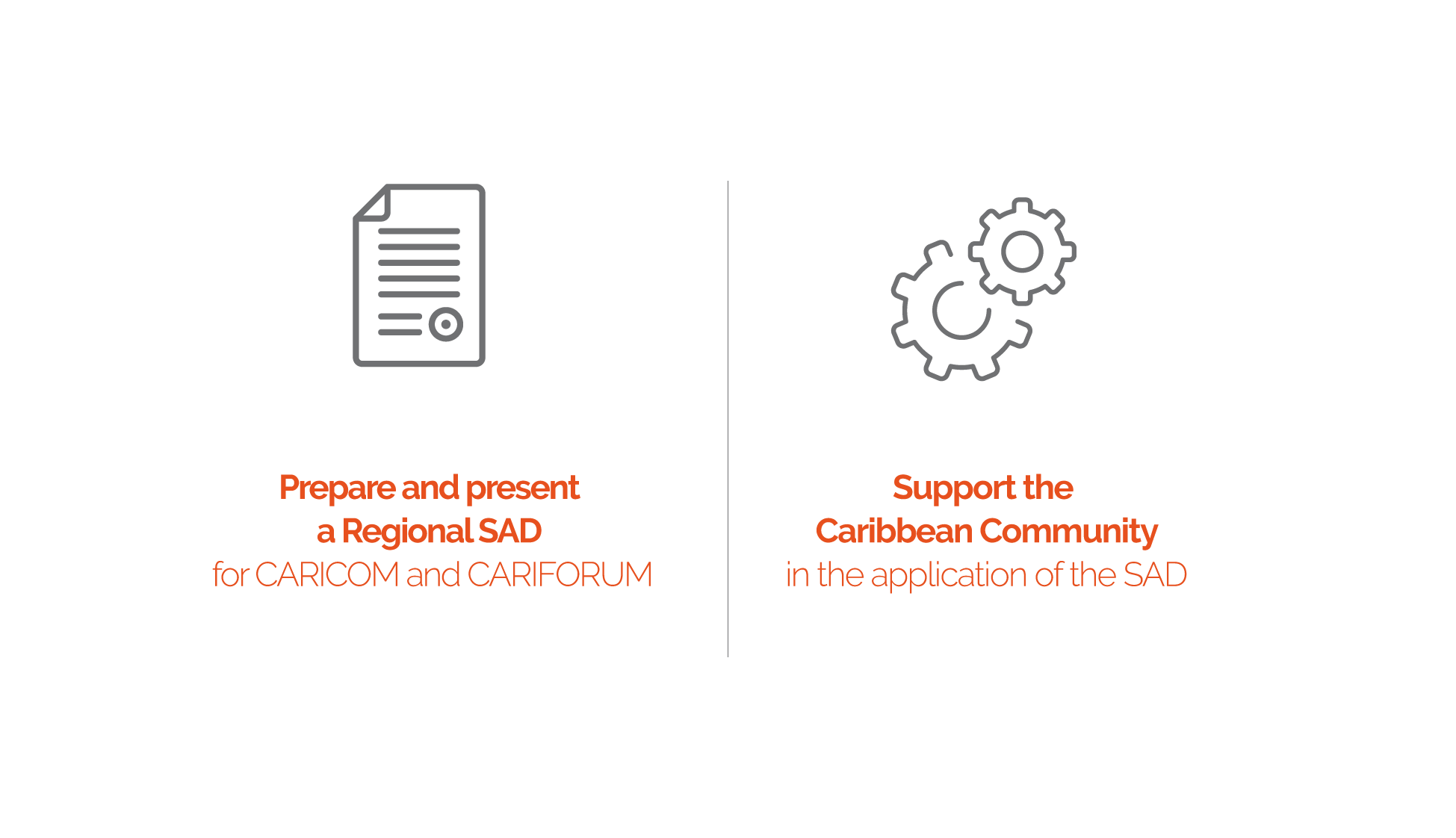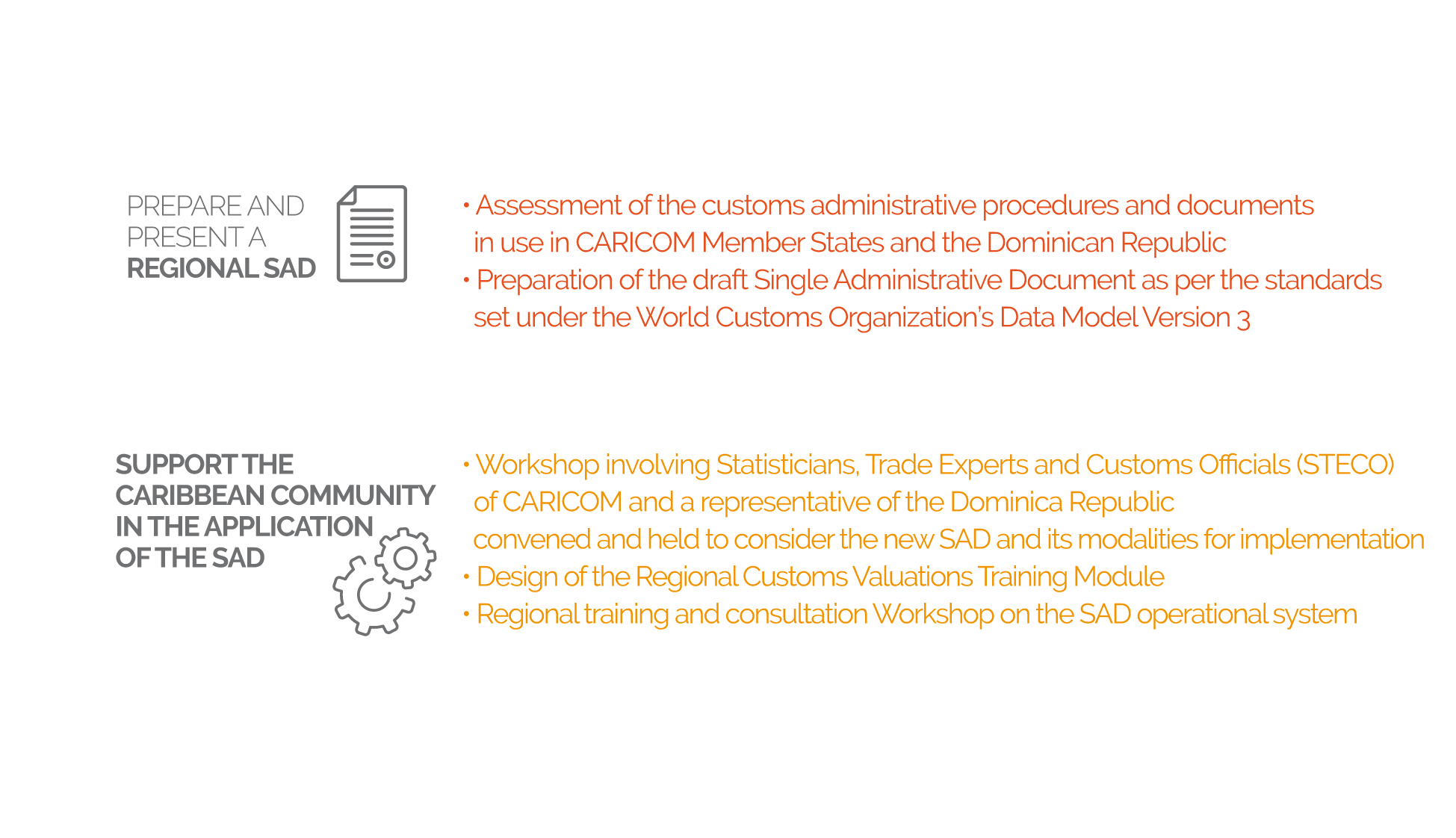 Purpose 1 – Prepare and present to CARICOM Secretariat and the CARIFORUM Directorate a Regional SAD for CARICOM and subsequently for CARIFORUM as per Economic Partnership Agreement (EPA) in accordance with the WCO Data Chapter 4 of Model version 3
Assessment of Customs administrative procedures in use in CARICOM undertaken;
Single Administrative Document (SAD) as per standards set under the World Customs Organisation prepared and submitted to key stakeholders for approval and utilization;
CARIFORUM SAD technical report prepared and circulated to the key stakeholders;
User guide to the implementation of the CARIFORUM SAD prepared and submitted to the key stakeholders;
Material for the workshop on the new SAD and its implementation for CARICOM staff prepared.
Capacities of the CARICOM and CARIFORUM, and customs officials of the States were developed on customs valuation best practice and the benchmarking of the SAD against the WCO data model.
Purpose 2 – Support the Caribbean Community (CARICOM) and CARIFORUM States through capacity building for customs officials on valuations and declaration in the application of the principles and procedures of the SAD
Modules for the workshop intended for statisticians, trade experts and custom officials (STECO) of CARICOM and a representative of the Dominica Republic prepared;
Preparation of training and background documents for the special meetings undertaken;
Validation SAD by the Statisticians, Trade experts and Customs officials (STECO) and officials of the Dominican Republic undertaken;
Training modules on Regional Customs Valuations prepared.
Visibility: Press Release "Harmonised laws, procedures necessary for full economic integration – CARICOM Assistant Secretary-General".
Programme funded by European Union at the request of the Organisation of African Caribbean and Pacific States - Implemented by AESA CONSORTIUM